SoMEone Saving Children
Small and Medium Enterprises (SMEs), this is your platform to help save and improve the lives of Filipino children!
BE SoMEone FOR CHILDREN
Save the Children is 100 years old globally - we have been working hard to improve children's access to quality education, health and protection around the world. In times of disaster and calamities, we are among the first to respond and last to leave, doing whatever it takes to save children's lives.
We help thousands of Filipino children together with our corporate partners and individual donors who have been with us for years. And as we work to help more children to get a good start in life, Small and Medium Enterprises (SMEs) like you can now take part in our meaningful work!
Click these links to learn more about our work in health and nutrition and education.
CHILDREN NEED STRONG PARTNERS – BE PART OF SoMEone SAVING CHILDREN!
SoMEone Saving Children is a special platform for SMEs to support Save the Children's mission. This gives your company the opportunity to do corporate social responsibility while maintaining focus in running and growing your business. It also gives you recognition that can help inspire your employees and boost your business. Your monthly donations are assured to support the provision of quality programs for children.
WHAT YOUR MONEY CAN DO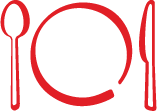 P3,000 will provide supplemental school feeding for 20 children for 3 days.

P4,000 will provide support for 2 parents to help improve their parenting skills.

P5,000 will provide 5 children with back to kits containing vital educational equipment.
These are illustrative price points and donations received by SoMEone Saving Children will go to a common pool of funds.
BE AN INSPIRATION
You can inspire your employees, customers and other SMEs through showing that someone like you can do something.
These are the privileges you get from the following packages: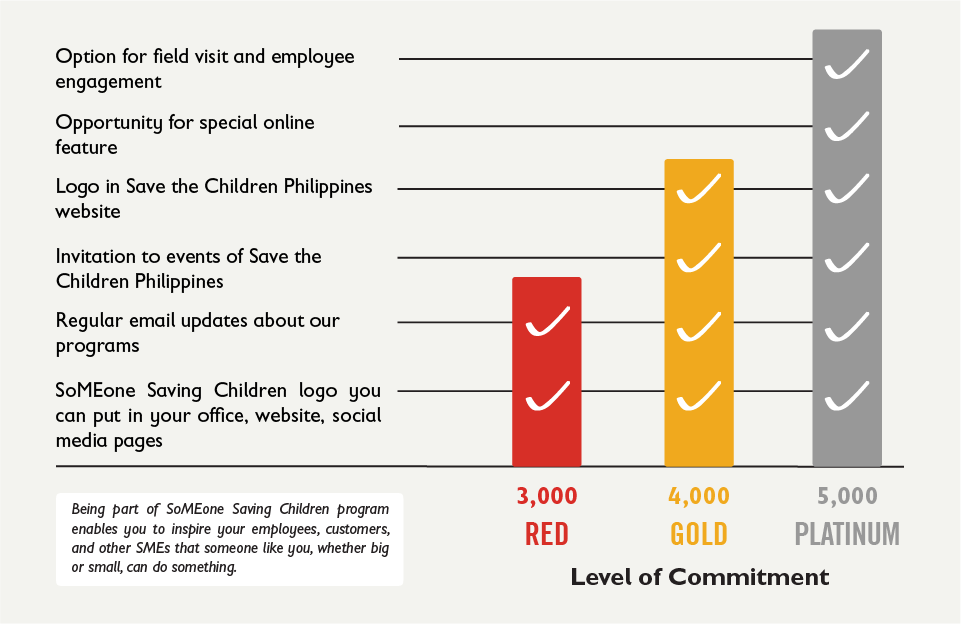 Moreover, we will be ensuring that you will be part of the children's journey to a brighter future. You will receive regular communications and can participate in the promotions of our programs.
TAKE THE STEPS TO HELP CHILDREN IN NEED. BE A SoMEone SAVING CHILDREN PARTNER NOW!
FREQUENTLY ANSWERED QUESTIONS
Funds raised through your donations are pooled to support programs for children in the Philippines. Programs are developed depending on where the need is great
Your support is very crucial to our ability to help children. We do hope you can at least commit for 12 months. This commitment can be renewed or continued.
Complete guidelines for the usage of the SoMEone Saving Children logo:
· Save the Children shares the SoMEone Saving Children logo with the active supporters of the SoMEone Saving Children program. All rights reserved.
· The logo is reserved only for SME supporters of SoMEone Saving Children. Use of the logo is non-transferable and cannot be shared with other business establishments.
· The logo may only be used during the period of active donation to the SoMEone Saving Children program. It must be removed from all applications if and when the support to SoMEone Saving Children program stops.
· Save the Children requests SME supporters to seek approval every time they wish to use the logo in a new application where it was not used previously.
· SME supporters may use the logo for their store or office establishment and their social media platforms or email communications where the support to SoMEone Saving program is cited. Example: ABC is a proud supporter of Save the Children's SoMEone Saving Children program.
· Reproduction (printing) of the logo will only be allowed for SMEs that maintain multiple stores, or where there is a preference for a more visible logo. Please inform Save the Children of this action by emailing supportercare.ph@savethechildren.org
· Participating SMEs may not under any circumstance alter or edit the shape, proportion, color or orientation of the logo.
· SME's may not use the SoMEone Saving Children logo in their merchandise, product packaging and collaterals or other products such as clothing, hats, mugs, and so on.
· SMEs are requested not to use the logo in a way that suggests or implies official partnership or endorsement by Save the Children.
· SMEs are required not to feature SoMEone Saving Children program and logo on materials associated with sexually explicit content, unlawful activity or other materials that violate our brand and mission.
Please email supportercare.ph@savethechildren.org for any clarifications.
We ask that you only use the logo during the period of time that you are donating to Save the Children. Renewing your commitment will enable you to continue to use the logo.
This might be possible, but please reach out to us directly if you wish to do so.
We discourage mixing these two efforts as monthly donations usually is the company's contribution while fundraising is mobilizing others to donate. We do welcome fundraising initiatives on top of your monthly donation commitment. You can reach out to us to help you set this up.
PhP 3,000 may provide supplemental feeding for 20 children for 3 days
PhP 4,000 may provide support for 2 parents in undergoing parenting education sessions to help improve their parenting skills or ready them for motherhood
PhP 5,000 may provide 5 children with Back-to-School Kits to equip them properly for school
YES! I AM SIGNING UP TO BE A SoMEone SAVING CHILDREN PARTNER.
DOWNLOAD OUR BROCHURE AND SIGN-UP FORM
I'D LIKE TO LEARN MORE ABOUT SoMEone SAVING CHILDREN.