Corporate Partnerships
Creating partnerships for lasting change.
Save the Children's corporate partnerships create meaningful change not only among children, but also among companies and employees.
From global companies like IKEA and GlaxoSmithKline to regional partners like Prudential and Johnson & Johnson, we work closely with corporates whose support ensures that more children are protected during emergencies and are educated, and that fewer children die from preventable diseases.
Our partners
Save the Children greatly appreciates the commitment, shared vision, and vital contributions of all our corporate partners. Including household names like Johnson & Johnson and Accenture, our partners work collaboratively with Save the Children in the Philippines and around the world to address the needs of vulnerable children.
Not only do Save the Children's partners support our programs in the Philippines with generous donations, they also support us through their services and gifts in kind. Many partners also help raise awareness of our life-saving work throughout the Philippines.
Becoming a corporate partner
Partnering with Save the Children can be an effective way of expanding and strengthening your Corporate Social Responsibility role, as well as making a very positive difference for children in the Philippines. Aligning your company with Save the Children sends out a powerful and positive message to employees, shareholders, and customers.
Save the Children is open to innovative partnerships with corporations in the Philippines that share our vision of a better world for children.
Ways to support:
There are several ways for your company to support Save the Children's mission:
- Sign up for Give to Save: An innovative workplace giving initiative that offers employees the opportunity to donate portions of their monthly salary to Save the Children's programs. For as little as P300 per month, an employee can already make a difference.
- Extend employees opportunities for engagement: Work with us to allow employees to volunteer for various Save the Children programs, depending on their skills and interests.
- Provide grant funding for specific projects.
- Raise funds and awareness through cause-related marketing, fundraising events, or other fun and creative means.
- Support our Children's Emergency Fund: This will help us address the needs of children in emergencies.
- We have partnership assessment procedures and policies that ensure we work with companies committed to social responsibility and who share our values and goals. Contact our Corporate Partnership team for information on how we can work together.

Save the Children is working with RaiseNow, our customized digital corporate fundraising platform, to offer corporate partners a bespoke employee giving page that allows them to track employee donations.
Below is a set of Frequently Asked Questions about RaiseNow. Please click each to view the answers.
What is RaiseNow?
RaiseNow is a web-based giving platform which allows your company, together with Save the Children, to share information about organizations and campaigns, and raise funds to support life changing programs for children. The platform can be used by companies and individuals to donate to Save the Children either from bank accounts (with debit card), by using credit cards, or Paypal accounts.
The campaign page contains the information about the organizations, the updated figures on the amount raised and number of donors, and further details about programs and/or the fundraising campaign. Once the link is generated, you can post it on your company bulletin, or share it with your colleagues and friends.
How can my company access and use RaiseNow?
Save the Children will set up your company's campaign page on the RaiseNow platform. A campaign URL shall be generated and shared with the corporate partner.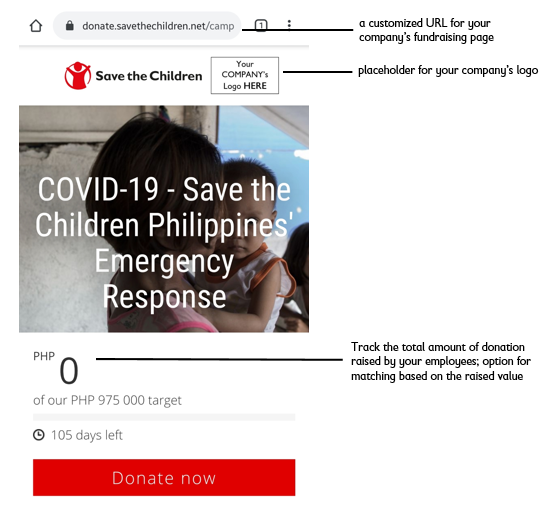 How can employees donate?
Employees will just have to click the link, select the amount of their donation, and fill out their details (address, email, etc.). After completion, they will be redirected to Save the Children's Paypal page, where they will be able to make their donation..
How will I know if my donation went through?
Upon filling out your email address, you may tick the box option to opt in receiving a donation receipt which will be sent to you after you've made your donation.
Can I use my donation receipt to avail of tax exemption?
Unfortunately, this is not available for donors as of the moment. Save the Children will provide an update once this is available.
What do you need from our company to set up our campaign page?
If you're interested in having a RaiseNow page for your company's fundraiser, kindly provide us the following requirements:
Legal Name of Company
Brief Introduction to the Company
Address
Contact Person (Name, Designation, Email, and Contact No.)
Company Logo
Test Material and Photos for the campaign (optional)
Target Amount to Raise
How long will it take to set up the campaign page?
Setting up the fundraiser page is fairly easy. Save the Children shall be able to provide you the link access within 24 hours after the receipt of the requested information and requirements. Once you receive the link, you may check it for further comments, or edit it to suit your preferences.
For other questions and concerns regarding RaiseNow, kindly reach us at corporateteam.ph@savethechildren.org.